Aparently not Blue:
Kylie Minogue 'Speaks' to Deceased Ex-Lover
Posted on Friday, 19 March, 2004
Kylie Minogue claims rocker Michael Hutchence still communicates with her — from beyond the grave.
The sexy singer says the INXS star returned from the dead to say "hello" to her.Kylie, 35, also claims to have been reincarnated several times and says she regularly speaks to the dead.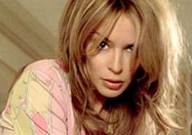 Here in Oz we are a bit more open to discussing these things. Apart from that the Minogues are like celebrity royalty both here and in the UK so they don't really care what people think of them - they know they are BIG. You probably find them more guarded about talking to the press about their love lives than their spiritual beliefs.
Article source:
unexplained mysteries
Also:
Kylie Minogue believes that the ghost of Michael Hutchence watches over her. "Michael's still around, I know that" the singer insists. "People might think I'm mad, but I feel his presence. It's very personal. He checks in with me and it's typical of him that I feel his presence just when I need him most". "It's not spooky, it's reassuring although the force of his presence can be scary".
from here:
psychics uk